From Hardly Working To Working Hard: Create The Optimal Home Office In Three Steps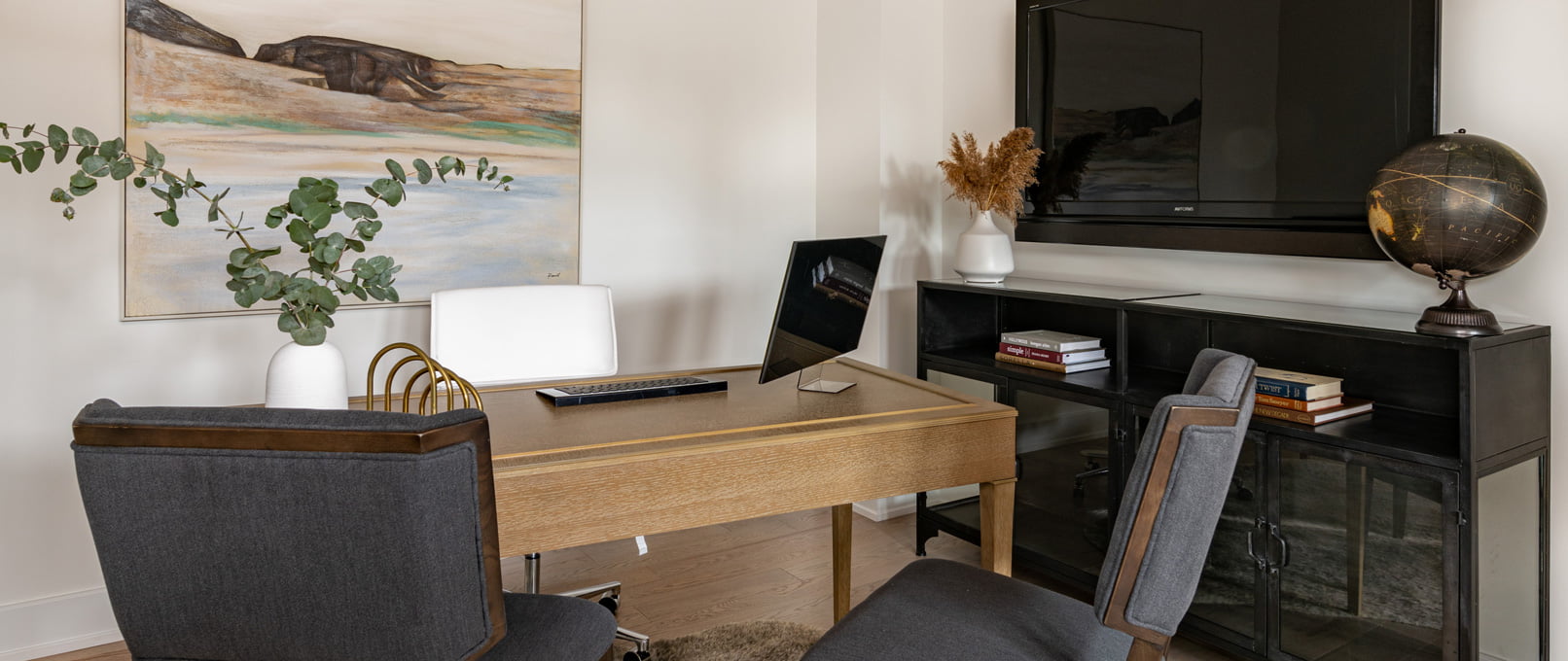 Working from home has become the new normal for many of us, and some employers are even looking to eliminate their offices altogether. Your makeshift desk at the dining table or corner of the basement just won't cut it anymore. Follow these three easy steps to create the optimal home office space – your employer will thank us!
1. Location, Location, Location
Location is everything, so take your time choosing a space for your office, you'll be spending a lot of time in there. Dedicate a space that is separate from the distractions of your home. A place you can call your own and get down to business, a cool loft, bright den, or spare bedroom will do the trick. Now that you've secured an office space, you can focus on getting work done in a quiet space. Plus, it will help you create a distinction between your work and home life (which is key).
2. Must Haves
Just like you have a list of 'must haves' when choosing your home or styling your space, put some time into thinking about your office 'must haves'. Do you need multiple monitors, working space, or supply storage? What about a chair for clients or a cozy spot to read and brainstorm? Outline everything you need to include in your space to maximize your productivity and comfort and stay organized.
3. Let There Be Light…and Life
We've got a bright idea – make sure your office is flooded with natural light. No window? Time for some new lamps. If anyone asks, we gave you permission to go shopping! Ample lighting will help you stay alert and avoid headaches or eye strain. You should also position your computer so there's no glare from the window or overhead light. But lighting isn't the only way to brighten up your home office, you can also add a bit of personality to your space. Try some inspiring art, trendy wallpaper, cool knick-knacks, and plants – you (and your space) are sure to look flawless on your next video call.
And that's it – you've created the ideal work from home space. No longer will your work days drift into your evenings, no more will you be scrambling to find what you need or straining your body, and no more will you be stuck in a drab, lifeless space from 9 to 5.
At Glenview Homes, we know that homeowners are looking for functional spaces which accommodate their needs now and into the future. That's why we design floorplans fit for modern living. Virtually all our homes, whether a town or single, feature spaces that could be transformed into a work from home sanctuary. Whether it's the den in The Madison, the loft in The Blakely, or the computer nook in The Elm, we take a carefully curated approach to homebuilding that's focused on helping you live better.
Click here to find the ideal floorplan for your lifestyle in our unique collection of homes.