Top 10 Tips to Transform Your Backyard into an Extension of Your Home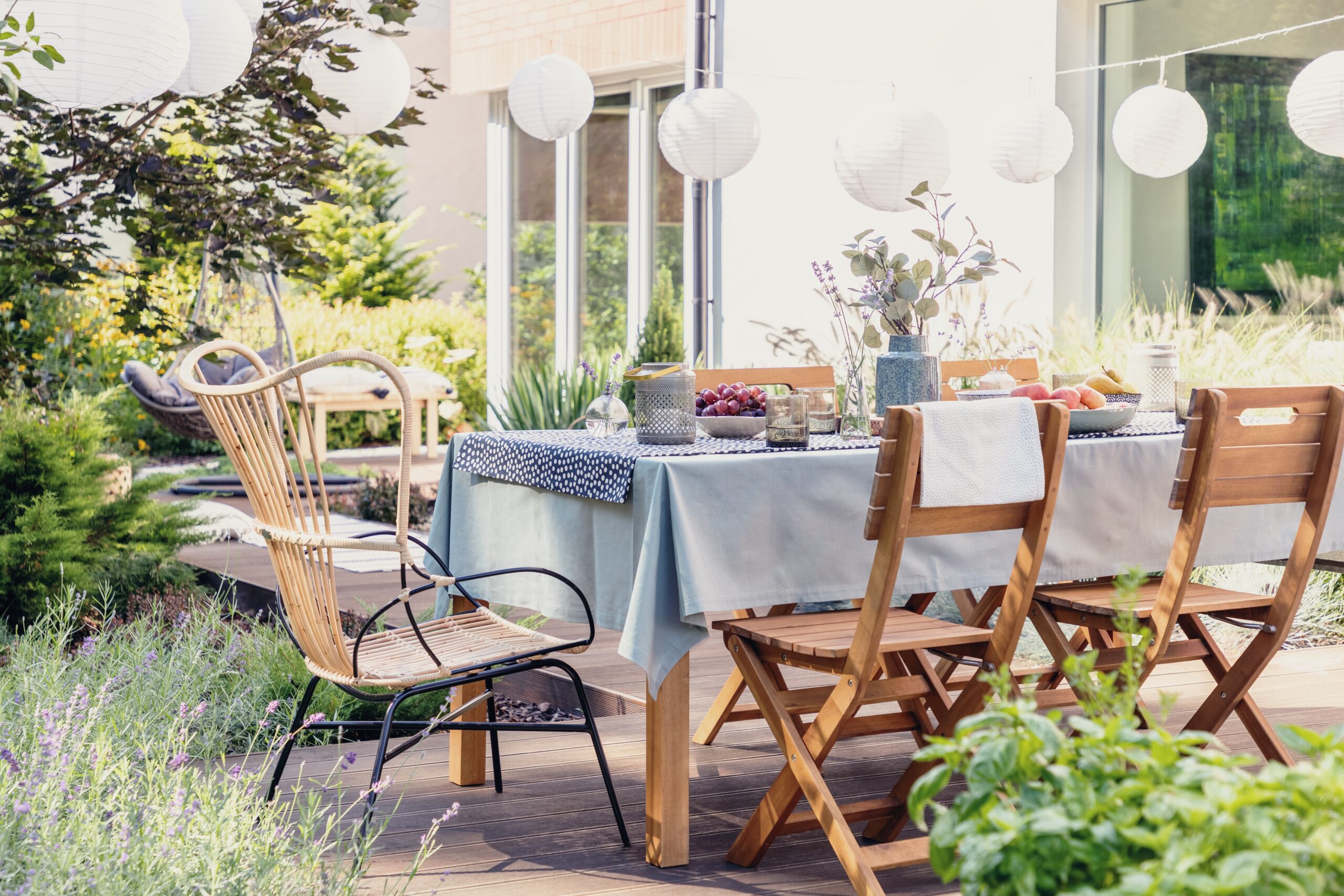 We've all been spending a lot more time at home these days and, as a result, many of us are feeling cramped in our spaces. Our homes used to be the place we could get away from it all, but now they've become a constant reminder of work and school. We have a solution. Check out our top ten tips to transform your backyard into an extension of your home – an outdoor oasis, if you will.
1- Bring the Inside Out
The first step to creating the optimal outdoor oasis is to secure your outdoor furniture. Stick with a classic patio set featuring a dining table and chairs, or explore some of the more contemporary conversation sets, which typically include couches, chairs, ottomans, and coffee tables. Assess how you plan to use the space, backyard BBQs or cozy morning coffees, to determine which type of furniture will work best for your household. No matter which you choose, we highly recommend getting an outdoor rug. Just like in your home, a rug finishes off the space and makes it extra comfy.
2- Flex Your Green Thumb
No backyard is complete without a trip to the garden centre! Before you venture out to the store, determine the level of maintenance you are committed to. If you're looking for low-maintenance plants and flowers, consider selecting pre-made planters and perennials (plants that come back every year) for your outdoor space. Ready for a bit more commitment? Customize your planters with your favourite flowers and greenery and mix-and-match a variety of perennials and annuals (plants that need to be re-planted every year) in your garden beds. If you're a full-fledged green thumb, you can tackle it all! Plus, you can carve out a space to grow your own fruits, veggies, and herbs. Bonus! One less trip to the store and enjoy ultimate food freshness.
3- Feed the Birds
Next, you want to include some special treats for the wildlife. If you're concerned with rodents, stick with a birdbath. That way you can enjoy watching the birds cool down on a hot day without attracting any unwanted visitors. If you're ready to welcome all species into your yard, consider getting bird feeders. Depending on which birds you would like to see in your yard, you can select different types of seeds and feeders to attract a variety of species. For fun, keep a log of all the different animals that come by for a visit!
4- Get Lit
Nothing makes a backyard more whimsical than lights. We recommend getting a variety of outdoor lights to take your space to the next level. Try string lights with vintage bulbs along the fence, assorted solar lights in your garden beds and along pathways, and upgraded wall sconces as your main source of light. You can also experiment with decorative lanterns, torches, and candle holders to add a touch of magic.
5- Play with Fire (not literally)
Speaking of light…why not explore some options for bringing the campfire experience into the city? There are countless choices nowadays, from the classic firepit, to fire tables, and full-blown outdoor fireplaces, the possibilities are endless and approachable for all budgets. Before burning a backyard fire review your local guidelines regarding permits and bans and be sure to practice fire safety. You'll also want to let your insurance company know.
6- Step Up Your Décor
Décor isn't just for inside your home, there are so many outdoor décor options that let you show off your personality and let your style shine. Looking for something simple? Try a trellis for climbing plants or a cute statue – we won't judge if you're a fan of garden gnomes! Looking to take it up a notch? Try some outdoor wall pieces, accent cushions for your furniture, or a water feature. From a simple fountain to an in-ground pond, there are tonnes of options for incorporating water into your outdoor space. Budget permitting, adding a hot tub or pool will give you a full-on spa experience right in your backyard.
7- Bring the Kitchen Outside
Nothing says summer quite like a backyard barbecue. After spending the long winter cooped up, most of us want to maximize the amount of time we get to spend outside. Bringing the kitchen outdoors is the perfect way to do this. We suggest starting your outdoor cooking experience with a standard BBQ, but if your backyard is big enough, you don't have to stop there! Companies are now selling full-scale outdoor kitchen gear complete with sinks, burners, fridges, and more. If you're a master griller, why not expand your skillset and try your hand at smoking meats? Meat, not your thing. How about pizza? Everybody loves pizza, and outdoor pizza ovens are all the rage!
8- Let's Play
Next up on your list of backyard must-have…GAMES! There are so many fun, family-friendly games to enjoy outside – especially when your kids say those dreaded words, "I'm bored". Here's a round-up of some of our favs!
Badminton
Giant Connect Four
Croquet
Lawn Darts
Horseshoe
Spike Ball
Bocce Ball
These activities are all fantastic because they can be played and enjoyed by all ages. Let the games begin!
9- A Table Fit for A King (or Queen)
Just like you dress up your dining table inside, you want to do the same outside. Take this as an opportunity to have fun with colour and textures that you may not feel comfortable experimenting with inside your home. Go for bright and bold tableware, get a fancy drink dispenser for lemonade and summer sangria, and make sure to stick with non-breakable materials such as plastic or wood.
10- Protect Yourself from the Elements
The final component of your perfect outdoor oasis is some sort of structure to protect yourself from the elements – whether a light summer rain or the strong summer sun. On a budget? Stick with a classic patio umbrella, try one of the off-set styles for a more contemporary look. Seeking something a bit more permanent? Build a pergola or get yourself a gazebo.
Creating an outdoor oasis is all about maximizing your property and relishing in the warm summer sun. Whether you try one or try them all, we hope our top 10 list has inspired you to get creative and enjoy your backyard more than ever!